How It's Made
Hammered In The Mountains jewelry is sawed, soldered, forged, hammered, stamped, filed, sanded, and polished by hand, from sterling silver sheet and sterling silver wire.  Each piece will contain my maker's mark and the purity of the sterling silver (.925).  Hand fabricated jewelry is a product of time, patience, and accumulated knowledge, making each piece irreplaceable.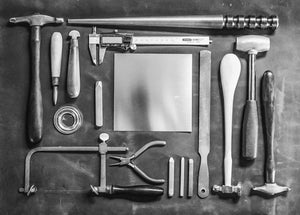 Taking Care Of Your New Jewelry
Sterling silver is 92.5% pure silver and 7.5% copper.  To properly care for your new sterling silver jewelry, be sure to store it in your Hammered In The Mountains box when not wearing it.  To clean your sterling silver, gently rub with a special polishing cloth designed to remove tarnish.  Wearing your jewelry often can help prevent tarnish as natural oils in your skin help clean and protect the silver.   
Blog
---
As the bugles were now 40-50 yards away, the bull started raking a tree. Our goats paused from feeding, watched up the mountain in fear, and ran to Benjis side...
Autumn's true passion with Hammered In The Mountains is to turn those elk ivories into wearable memories. As an avid backcountry hunter herself, she knows the significance of each hunt...
After the 3rd or 4th stoke job for the fire of the night, the alarm was now going off in our little wall tent on the prairie. Sub zero temps...